Fire Prevention
2022 Fire Prevention Week is October 9th-15th. "Fire Won't Wait, Plan Your Escape"
Check out the Fire Prevention Week webpage for information about activities, safety messages and activities for kids.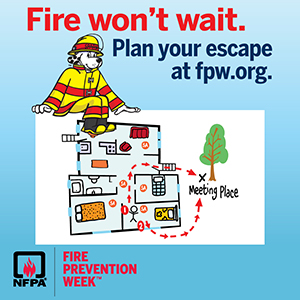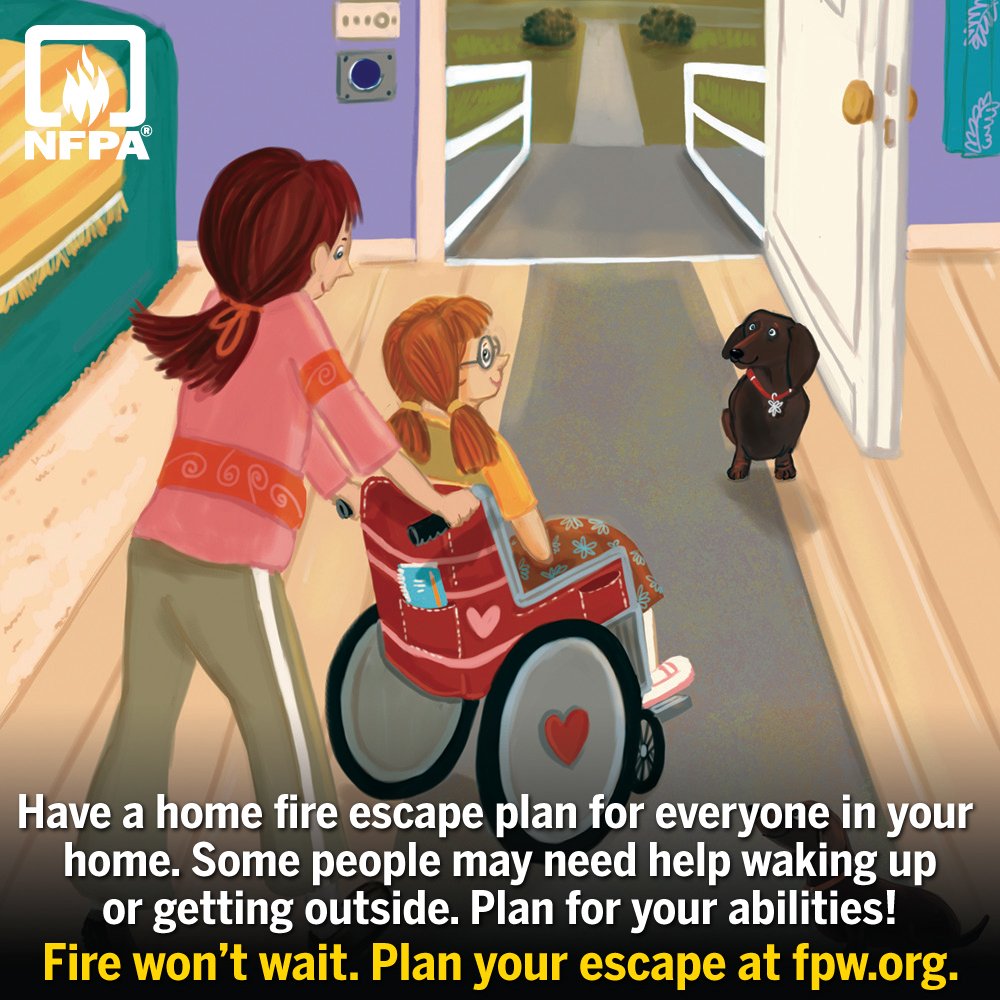 Escape planning
Your ability to get out depends on advance warning from smoke alarms and advance planning.
Fire can spread rapidly through your home, leaving you as little as one or two minutes to escape safely once the alarm sounds. A closed door may slow the spread of smoke, heat and fire. Install smoke alarms in every sleeping room and outside each separate sleeping area. Install alarms on every level of the home. Smoke alarms should be interconnected. When one sounds, they all sound. Pull together everyone in your household and make a plan. Walk through your home and inspect all possible exits and escape routes. Households with children should consider drawing a floor plan of your home, marking two ways out of each room, including windows and doors. Also, mark the location of each smoke alarm. For easy planning, download NFPA's escape planning grid (PDF). This is a great way to get children involved in fire safety in a non-threatening way.

Have some fire-safety fun with The Let's Hear It For Fire Safety Kids. They sing and dance about what to do if there's a fire - Get Outside and Stay Outside!
source: http://www.nfpa.org/public-education
Close before you doze campaign

History of Fire Prevention Week
Fire Prevention Week is on record as the longest running public health observance, according to the National Archives and Records Administration's Library Information Center.
NFPA has been the official sponsor of Fire Prevention Week since 1922, when the commemoration began.
President Calvin Coolidge proclaimed the first National Fire Prevention Week on October 4-10, 1925, beginning a tradition of the President of the United States signing a proclamation recognizing the occasion. It is observed on the Sunday through Saturday period in which October 9 falls, in commemoration of the Great Chicago Fire, which began October 8, 1871, and did most of its damage October 9.
The horrific conflagration killed more than 250 people, left 100,000 homeless, destroyed more than 17,400 structures and burned more than 2,000 acres.
Read the complete article from the National Fire Prevention Association here. Learn about how many people believe the fire was started by a cow, there was a much larger forest fire the same week, and how these events spurred 9 decades of fire prevention!
source: http://www.nfpa.org/public-education/campaigns/fire-prevention-week/about-fire-prevention-week